What Are The Odds That Your Crawford County Home Gets Struck By Lightning?
9/21/2020 (Permalink)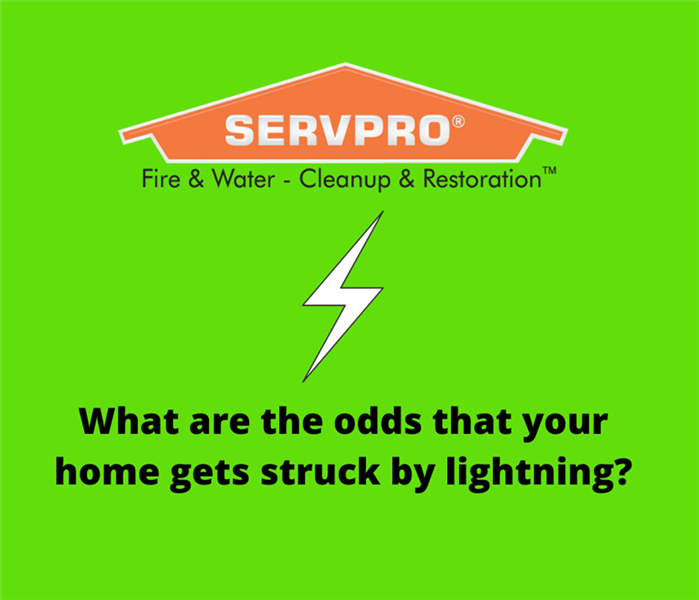 Lightning is one of the most dangerous storm events that could damage your home. Call SERVPRO to see how we can help after storm damage.
Lightning is one of the leading weather-related causes of death and injury in the U.S. It may not seem likely to happen, but you would be surprised how often homes are struck by lightning. When this happens, the home is at risk for catching fire but it won't always catch. Hopefully this never happens to you, but what would you do if it did?
When the lightning hits down, it will jump around to another place in your home. For example, it could strike your awning and then bounce to a window frame and then continue to the electrical system in your home. Anything that is metal or electronic has potential for being a source of power for the lightning. There are a few main things you need to be aware of to minimize concerns of potential damage to your home.
Fire Danger: This is the biggest threat to your home in the event of a fire. Most of the time, damage isn't visible, or at least doesn't start that way. It may start in the wiring of the home and create a fire in the wall, which burns slowly and is dangerous because it may not be noticed easily, especially if the people occupying the home are asleep. Most commonly, the damage starts in the attic or roof of the home.
Power Surge Damage: If lightning goes along the path of the home's wiring as its path, the surge can damage even non-electronic appliances that are connected. Lightning can destroy electronics without you even knowing something has happened to them.
Shock Wave Damage: Lightning can split concrete, brick, cinder block or stone when it produces a shock wave. The shock waves that lightning create is what produces the thunder that we hear.
If your home gets struck by lightning, the first thing you need to do is to call the fire department. As I previously mentioned, lightning can spark a fire in the wiring within the walls, and you may not be aware of the fire until it is visible. After the fire department inspects your home, you may need an electrician to rewire your home. If the damage is extensive, you may need SERVPRO to come do a free inspection of the damage. We can target the areas that need to be restored and then we can remove any debris, mitigate the damage and then restore any structural damage you may have. SERVPRO can also identify the items in your home that are salvageable and non-salvageable. What is salvageable we will clean and re-pack to be delivered back to your home. For what is non-salvageable, we can document and photograph these items for insurance claim purposes.
Lightning may be a chance encounter, and we hope it doesn't happen to your home, but be prepared with SERVPRO's information, just in case! Be prepared when disaster strikes.
SERVPRO of Crawford & South Washington Counties should be your first choice for any residential or commercial restoration needs. Our team of professionals is trained to assess the damage and potential threats, extract and contain the affected area, dry, and restore your property to preloss condition.
SERVPRO of Crawford & South Washington Counties is available 24/7 by calling 479-318-6774.
For more about SERVPRO of Crawford and South Washington Counties, click here.