Home Water Damage DRAINED By Experts At SERVPRO!
5/8/2019 (Permalink)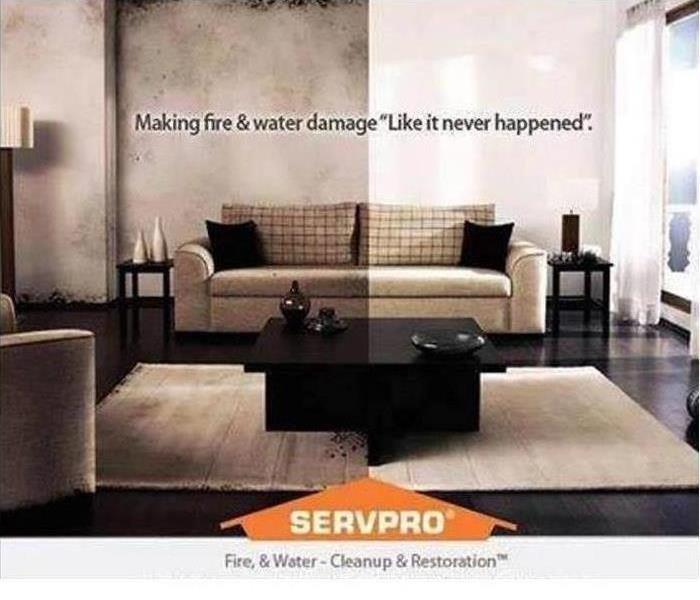 SERVPRO understands that cleanup needs to begin as quickly as possible to prevent ongoing damage your home and personal items.
Fast Action and Cleanup of Water Damage In Your Home
When damages affect structural components and the contents of your home, you need professionals that can mitigate the crisis and resolve your situation fast. In a water damage situation, cleanup needs to happen as quickly as possible to prevent ongoing damage and detrimental effects that lead to irreparable damage.

Even though water cleanup is something that many homeowners could insist they could do on their own, water loss situations require an immediate response from skilled technicians equipped with the right tools. Our SERVPRO water restoration technicians begin their training with the extensive IICRC-certification, which is the premier standard of the industry. They are encouraged and take part in ongoing in-house and e-learning options to improve their knowledge in essential recovery techniques such as mitigation and drying.

These skilled technicians are available to you for water cleanup, mitigation, and water damage restoration 24 hours a day through our response team. As water damage is time sensitive, having a crew of highly-trained technicians that can mobilize personnel and equipment efficiently reduces the impact that water loss incidents have on your property. Within a matter of minutes, water can absorb into walls, floors, upholstery, and your personal belongings. You need a team that can respond immediately to help.

The equipment that we use for water cleanup and restoration work is among the most advanced machines and tools available in the industry. We seek to have the best equipment possible, as this ensures that we can provide fast extractions, drying efforts, and premier cleaning solutions. Drying is an important step in water restoration, and our high-powered air movers can help to force dry areas at a much faster rate than they would through conventional approaches.

Water cleanup might seem like something that you could attempt on your own, but this often leads to inadequate drying and moisture removal, which can result in negative and hazardous secondary effects like mold growth. Trust our skilled SERVPRO 24-hour response team to arrive shortly after you call to help you clean up the mess fast. Call us anytime at (479) 318-6774.
Click here for more about SERVPRO of Crawford and South Washington Counties.