Space Heater Safety Tips for your Rogers Home
10/20/2020 (Permalink)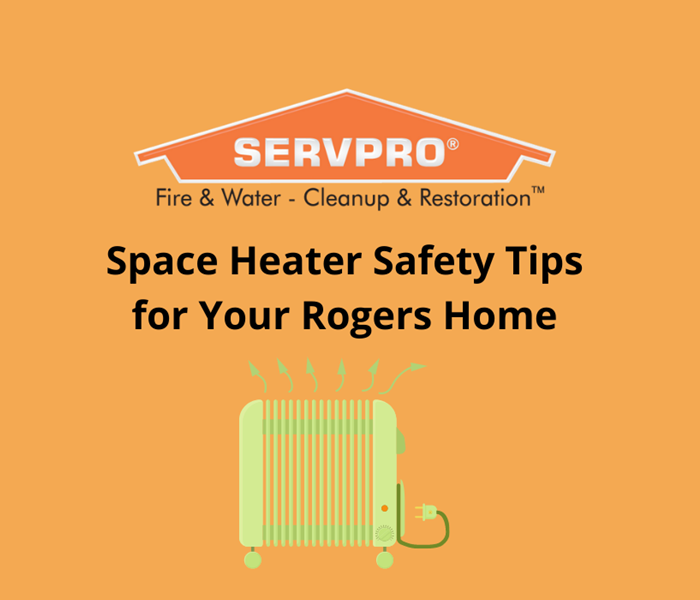 Space heaters are great to use around your home in the winter months, but there are dangers involved that you need to be aware of to keep your Rogers
Many of us opt to use space heaters during colder months as an additional source of comfort and can help save money on our energy bills. While portable space heaters do generate heat they also present potential fire hazards and must be used with caution. Portable space heaters are a potential source of fire if not used properly. Heating fires occur in colder months. Below are some safety measures to keep in mind before turning on your space heater.
When setting up a space heater, remember to keep it at least 36 inches from any flammable or combustible materials and place it on the floor. Should be free of flammable liquids. Do not put them on easily ignitable or combustible surfaces, such as rugs or carpets, or use them to dry wet clothing.
Heaters must be monitored when in operation.
Plug heater directly into a wall receptacle. Never plug it into an extension cord.
When using a fuel-fired space heater in an enclosed area, it is a good idea to leave a window or door partially open to allow for fresh air to enter preventing carbon monoxide (CO) buildup. CO can be very dangerous if inhaled.
Do not use space heaters in wet areas like bathrooms or kitchens. Electric heaters should be kept out of wet or moist places as water could lead to a fire or shock hazard.
Keep space heaters away from exit ways, walkways and paths of travel.
Make sure the heater you purchase carries a label from UL, ETL, or CSA. These are safety consulting and certification companies and a sign you're using a good product that has been tested.
Do not use portable space heaters if small children are expected in the area.
Be sure to clean your space heater regularly, and follow your manufacturer's guide for specific advice on maintenance and inspection.
Unplug the unit when not in use. Never leave a space heater on when you go to sleep.
SERVPRO of Benton & Carroll Counties should be your first choice for any residential or commercial restoration needs. Our team of professionals is trained to assess the damage and potential threats, extract and contain the affected area, dry, and restore your property to preloss condition.
SERVPRO of Benton & Carroll Counties is available 24/7 by calling 479-318-6774.
For more about SERVPRO of Benton & Carroll Counties, click here.